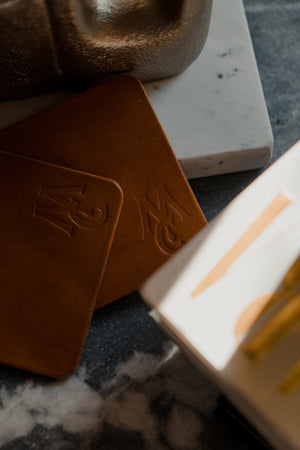 Leather Coasters
Sale price Price $7.00 Regular price
Our coaster is hand made from a single piece of 10-12oz Wickett and Craig Tan Bridle leather, which has been carefully selected for its quality and beauty. This leather is vegetable-tanned, which means that it has been treated with natural materials rather than harsh chemicals, making it a more sustainable and environmentally-friendly option.
The coaster is cut into a square shape, with a diameter of approximately 3.5 inches. It is a thick and sturdy coaster, designed to protect your surfaces from water marks, heat damage, and scratches.
This coaster is an excellent addition to any home decor or office setting. It is perfect for use with hot or cold drinks, or a cup of Moment Coffee (*wink wink*).
*We make these from scratch so please expect a lead time of 7 days!